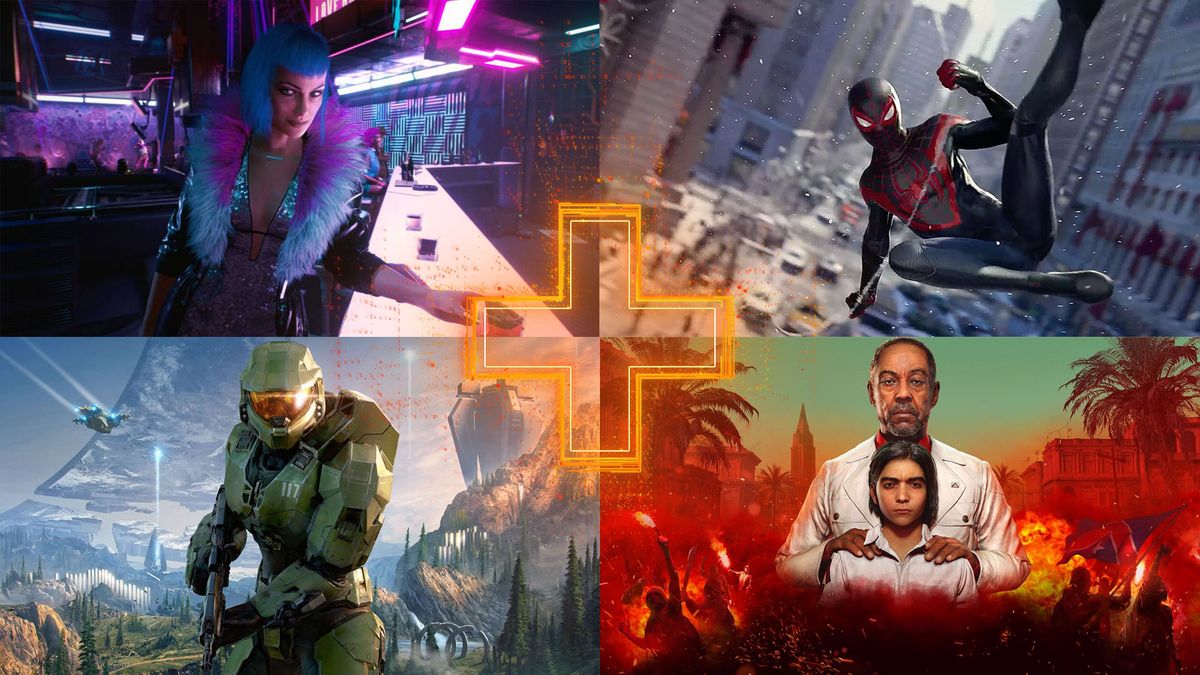 We've put together this list of upcoming games of 2020 and beyond so you can keep track of all the exciting releases you'll want to be adding to your wishlist. Thanks in no small part to the arrival of the Xbox Series X and PS5, the number of fantastic games continues to grow, with so many upcoming Xbox Series X games and upcoming PS5 games to look forward to.
But things certainly aren't slowing down for other platforms either, with plenty of exciting games set to land on the Nintendo Switch and PC. There really is something for everyone here, from big AAA titles to interesting indies.
This list covers all of the most exciting releases we'll be seeing in 2020 on a variety of platforms, and from the way it's already shaping up, it's going to be a very big year for exciting game releases. We also look beyond the year to more releases we can hardly wait to get our hands on. If you're wanting to buy a next-gen console, be sure to keep an eye on our PS5 pre-orders and Xbox Series X pre-orders pages.
Dirt 5
(Image credit: Codemasters)
Platform(s): Xbox Series X, PS5, PC, Xbox One, PS4, Google Stadia
Release date: November 6, 2020 (current-gen), November 10, 2020 (Xbox Series X), Google Stadia version in 2021
DiRT 5 is the latest off-road driving experience from Codemasters, and this time we're going more extreme than ever. Along with tracks set across a global stage, including New York City, Rio de Janiero, and remote areas of China and Greece, the game will also offer more ways to play than ever before: four-player split-screen modes are returning, and there's a new game mode specifically designed for co-op play ranging from your couch to global online battles. Plus, there's even a narrative-driven career mode to explore, which will feature voice acting talents like Nolan North and Troy Baker. All of this can be played in a non-linear format too, so you get to play more of what you want.
Assassin's Creed Valhalla
(Image credit: Ubisoft)
Platform(s): PC, Xbox One, PS4, PS5, Xbox Series X
Release date: November 10, 2020
Buy: Assassin's Creed Valhalla pre-orders
It's time to make a leap of faith into the Viking era with Assassin's Creed Valhalla, the latest entry in Ubisoft's long-running series. You'll play as Eivor (male or female), a Viking raider who must lead their clan from the icy plains of Norway into a new home in England. This is the Dark Ages though, so England is a nation lead by a collection of petty lords and warring kingdoms. Will you conquer this land? You'll find out soon enough.
Spider-Man: Miles Morales
(Image credit: Insomniac Games)
Platform(s): PS5
Release date: November 12, 2020
Insomniac is bringing another web-slinging adventure towards the end of the year, and it will feature Miles Morales as Spider-Man. Set to come to the PS5, Spider-Man: Miles Morales is a standalone game where we'll follow the story of Miles as he masters his new spidey-senses. Set to expand and build on the 2018 PS4 release, this latest Spider-Man game is said to take full advantage of the PS5's SSD, making fast-travel across New York City near-instantaneous.
Demon's Souls Remake
(Image credit: Sony)
Platform(s): PS5
Release date: November 12, 2020
From Software fans better get ready because the classic 2009 Demon's Souls is getting a remake for the PS5. Bluepoint Games, who also worked on the Shadow of the Colossus remaster, is developing the remake and will see the PS3 transform into a game that takes advantage of the next-gen console. The trailer showed off some impressive-looking cinematic sequences showing off some of the settings of the original. While we haven't seen any gameplay yet, we hope to see more soon.
Godfall
(Image credit: Gearbox / Counterplay)
Platform(s): PS5, PC (Epic Games Store)
Release date: November 12, 2020
As one of the first games to be announced for Sony's next-gen console, Godfall is set to land on the PS5 at the tail end of the year. Developer Counterplay Games describes it as a loot-driven action RPG, with a focus on real-time melee combat. The new IP is set in a fantasy universe with "heroic knights, arcane magic, and forbidden realms." The game can also be played in its entirety in co-op or solo as you so desire. We don't yet know much more about this looter-slasher, but the shiny action-packed trailer and the game's high fantasy setting is certainly attention-grabbing.
Sackboy: A Big Adventure
(Image credit: Sony)
Platform(s): PS5
Release date: November 12, 2020
The little knitted protagonist of LittleBigPlanet is returning in a new 3D adventure on the PS5. A shiny new trailer dropped showing the much-loved character getting up to some classic platforming action along with a whole host of new gameplay features. In Sackboy A Big Adventure, you can play the game solo or team up with friends for a more collaborative multiplayer experience. While it's not a numbered LittleBigPlanet adventure, this spin-off looks set to us our fill of Sackboy's signature platforming action with some new experiences thrown into the mix.
Yakuza: Like a Dragon
(Image credit: Sega)
Platform(s): Xbox Series X, PS4, Xbox One, PC
Release date: November 13, 2020
Having already been released in Japan, Yakuza fans have been desperate to see a Western release for Yakuza: Like a Dragon, and now it's en route. Developer Sega is calling the game an "explosive entry point" to the series, as it's the first to feature turn-based combat instead of the traditional beat 'em up style – a contentious decision for some fans too. It's an attempt to make this entry more of an action RPG than other series' entries. But otherwise, it's a fresh slice of Yakuza action, with a new protagonist in the form of Ichiban Kasuga, a low-level Yakuza from a smaller family. The story picks up after Ichiban leaves prison after serving 18 years for a crime he didn't commit, and discovers everything's changed, including the family he left behind.
Hyrule Warriors: Age of Calamity
(Image credit: Nintendo)
Platform(s): Nintendo Switch
Release date: November 20, 2020
Nintendo is kind enough to offer us a tantalizing stopgap to satisfy fans until Breath of the Wild 2 is released, and it's called Hyrule Warriors: Age of Calamity. A sequel to Hyrule Warriors and a prequel to Breath of the Wild, Age of Calamity is a Dynasty Warriors-like hack-and-slasher that sets up the events to Breath of the Wild. It's the first in-canon Hyrule Warriors game, and you can bet we'll be ripping through Moblins in Breath of the Wild's post-calamity Hyrule as soon as Age of Calamity releases this November.
Immortals Fenyx Rising
Platform(s): PC, Xbox One, PS4, Nintendo Switch
Release date: December 3, 2020
The team behind Assassin's Creed Odyssey surprised us all when it announced a new IP was on the horizon. Formerly known as Gods and Monsters, Immortals Fenyx Rising takes you on an open-world adventure based around Greek mythology and legends. You play as a hero who you can customize the look of in the character creator. With the ability to wield the power of the gods, you take on powerful mythological enemies and try to solve ancient puzzles in the various regions that are inspired by the Greek gods.
Cyberpunk 2077
(Image credit: CD Projekt Red)
Platform(s): PC, PS4, Xbox One
Release date: December 10, 2020
Buy: Cyberpunk 2077 pre-orders
CD Projekt Red has given us some absolutely ravishing teases of Cyberpunk 2077 and its futuristic Night City, and until we get to play it for ourselves, we'll be poring over every trailer and screenshot in search of new details. As a customizable protagonist, you'll explore a dense metropolis from the first-person perspective – a departure for the studio that initially sent some Witcher fans in a tizzy. They'll get over it when they dive into Cyberpunk 2077's grungy world of high-tech weaponry and digital espionage.
Ratchet and Clank: A Rift Apart
(Image credit: Sony)
Platform: PS5
Release date: "PS5 launch window"
A brand new Ratchet and Clank adventure from Insomniac games is arriving around the same time as the PS5, and it's a dimension-smashing adventure. Dr. Nefarious has got the Dimensionator and is ripping holes between worlds, dragging our duo of heroes with him. There will be new gadgets, new worlds, and more to discover in Ratchet and Clank: A Rift Apart, including a brand new, playable, female Lombax from another dimension.
Hitman 3
(Image credit: Square Enix)
Platform(s): PS4, PS5, Xbox One, Xbox Series X, PC
Release date: January 20, 2021
Agent 47 is returning in Hitman 3 and he'll be getting stuck into his assassination contracts on both next-gen and current-gen consoles. In what is set to be a dramatic conclusion the World of the Assassination trilogy – where players carry out missions around the world in different sandbox locations – Agent 47 is said to carry out his most intimate, professional contract of his career. IO Interactive also revealed the start of the game will take place in Dubai.
Prince of Persia: The Sands of Time remake
(Image credit: Ubisoft)
Platforms: PS4, Xbox One, PC
Release date: January 21, 2021
Ubisoft is bringing back one of the PS2/Xbox/Gamecube era's most memorable titles with a fresh remake of Prince of Persia: The Sands of Time. It might sound surprising for a studio that's been around so long, but this marks Ubisoft's first full-fledged remake, distinct from other titles they've simply remastered for newer hardware. That said, The Sands of Time remake is pretty darn faithful to the original, just with modern graphics and gameplay.
Turn to the next page for more of the best upcoming games for 2020 and beyond…